Orval Overall (February 2, 1881 - July 14, 1947) was an American right-handed pitcher in Major League Baseball during the early 1900s.
His best years were with the Chicago Cubs, notably 1907 when he won 23 games, second highest total in the National League behind Christy Mathewson's 24. In World Series action he went 3-1 for the Cubs over their Series four appearances during those glory years.
He played seven years in the major leagues compiling a record of 108-71. His 2.24 lifetime ERA is eighth best in major league history.
He is the only man to strike out four batters in one inning in the World Series. He did it in the 1908 Series.
He attended the University of California, Berkeley, where he was captain of the football team. He was named an All American in football.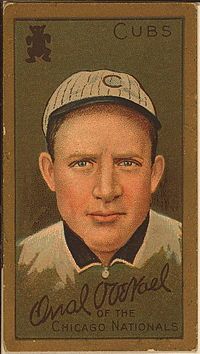 It's one of the most interesting feats in sports. And the most confusing? Three strikeouts in one inning is definitely respectable, even a pitcher's dream, but FOUR in one inning? Yes, it happens, and more often than you'd think.
Just how is this feat achievable? A batter with two strikes on him takes a swing at strike three; however, the catcher does not field the ball cleanly, and instead of tagging the runner out, the runner reaches. The strikeout is recorded, but not the out.
It takes a special pitcher to shake off the embarrassment of allowing a runner you just struck out to get on base and strikeout the next batter. Ed Crane did it first. Walter Johnson did it first in the American League. Bob Gibson, Phil Niekro, Don Drysdale, and
Kerry Wood
did too.